Founded in 2010 by Paul Kamps, Kamps Hardwoods, Inc. specializes in manufacturing kiln-dried lumber from standing timber harvested throughout Michigan. Species include Ash, Cherry, Red Oak, White Oak, Soft Maple, Hard Maple, Walnut, Hickory, and Poplar. Although the company produces 4/4 lumber, it specializes in thick stock products, ranging from 5/4 through 12/4.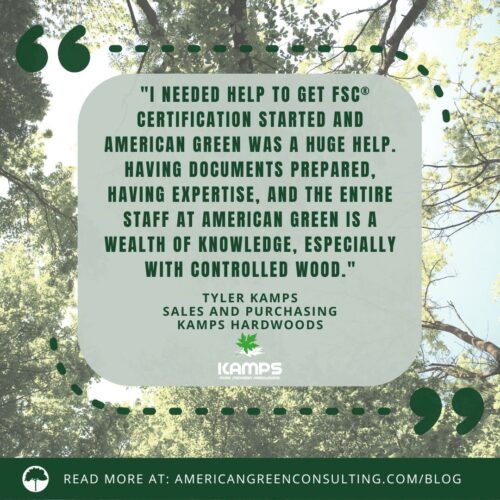 Kamps Hardwoods sawmill, Buskirk Lumber Co., harvests within a 150 miles radius from several different hardwood species in Michigan (a hardwood tree is any tree that loses leaves annually, whereas softwood trees generally are evergreens). They take that lumber and dry it in kilns before sending it to their customers for further manufacturing.
Michigan Hardwoods are so appealing because they feature a very distinct grain and consistent desirable color, each species having its own unique attributes. Hardwoods, especially in our region, have a very tight growth rings because of the long winters – that makes the grain really stand out.

In our main species—walnut—the color is completely unique and there are no other species domestically with that chocolate brown color and distinct grain.

Our Hard Maple has a bright white color and our logs have very small hearts. Both characteristics make for perfect guitar necks, which is why Fender and Paul Reed Smith are some of our clients.
Sustainability may be second nature for Kamps Hardwoods, but the paperwork process was not.
We've worked with American Green Consulting from the beginning of the process to become an FSC® certified company. We had customers whose supply chains required FSC certification in order to keep us as a supplier, and they pushed us towards getting certified. When we looked at our practices, from a practical standpoint there wasn't much that needed to change, thankfully, because we operate in a sustainable industry that doesn't over-harvest its species.

It's fascinating because every part of the tree ends up being used in a meaningful way, down to the sawdust for woodstove pellets and local farmers for cow bedding.

For us, it was a matter of putting our processes on paper and going through the steps of the certification and chain of custody.

When I looked at all the requirements of FSC certification, none of it naturally made sense to me and I didn't have a background in it. I needed help to get everything started and American Green was a huge help. The entire staff at American Green is a wealth of knowledge. They have documents prepared and expertise, especially with controlled wood.
Certification is an ongoing process for most of our clients and never a one-size-fits-all effort. We view certification as an ongoing partnership, and we commit to helping you reach your sustainability goals year after year.
Looking back now that we've been certified for almost five years, knowing what we know now, we could probably easily handle the requirements for mixed and 100%. Even so, controlled wood is a huge, huge thing to work on. Especially when you're sourcing from several different states and working on the most difficult part – trying to get the information needed from the sawmills.

American Green showed us the logical supply area analysis and how that can be applied, which helped us take this huge, daunting task and make it achievable. There's only so much time in a day that you can spend on these things, so it was a major help.

AGC took so much of my slow paperwork and simplified and organized it. Even digital mapping, mailings that automatically go out for specified risk areas, educating our suppliers, as opposed to me stuffing envelopes with with this information.

AGC handles that all through the Controlled Wood portal. That's been a huge time-saver and helps keep your customers a step ahead of industry trends even before they know they need it. I call that innovation.
Learn more about Tyler and Kamps Hardwoods at https://kampshardwoods.com/