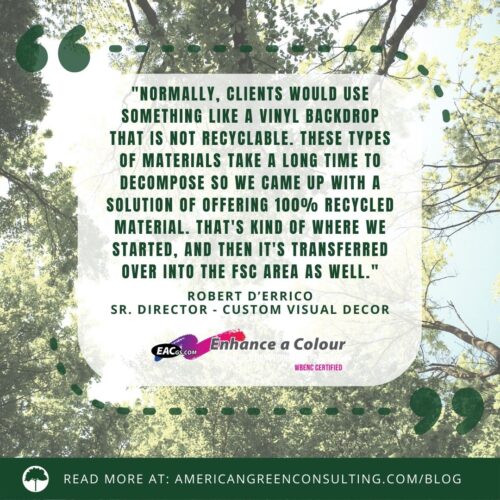 Enhance a Colour is a woman-owned business that has been in business for over 25+ years. They pride themselves on offering customers a complete one-stop solution. That can mean taking a project from early design through to production and final installation, or just stepping in along the process as a customer's needs dictate with the goal of making a very smart impression.
"Our clients were asking for MDF board material that had to be FSC certified.

MDF is traditionally made of wood fibers that have been broken down into residuals, then mixed with wax and resins and heat pressed into dense, durable sheets. A sheet of MDF will be heavy, smooth and even, with a flat surface that can be painted or sealed. While we actually do print to a lot of that material, we've never actually had anybody ask for it to be FSC certified before.

American Green really helped us in the process of getting FSC certified. And it actually was a pretty straightforward process, everything was really broken down. The training videos were fantastic. I plan to go back to American Green if we have more FSC certification needs," says Robert D'Errico, Senior Director of Custom Visual Decor.
The members of the Enhance a Colour team are specialists in the field of unique digital images and displays on virtually any substrate. They can create custom carpets and flooring solutions, work with woods, ceramic tiles, glass, acrylics, wood, metal, fabrics, carpeting, ceiling tiles, vinyls, adhesive materials, recycled materials, wallpaper, and even fiberglass. Enhance a Colour creates what others say – and believe – to be impossible.
"A perfect example is the work we do for the United Nations. They are very big on using anything that can be recycled or sustainable. Normally in our industry, clients would use something like a fabric or vinyl backdrop that is not recyclable. These types of materials take a long time to decompose so we came up with a solution of offering 100% recycled material. The great thing about that is it goes directly into the recycling program of that building or corporation and that's kind of where we started, and then it's transferred over into the FSC area as well.
When we earned FSC certification, we put together a newsletter and a press release and we broadcast it to all of our clients. Within three days, we had major corporate clients around the United States say congratulations and want to learn more about it. Not only did it open doors for us, but we are talking to clients about sustainable options for trade shows or activations and even some retail build-outs just because of that simple press release.
What's interesting is that we are up in the western part of Connecticut and have about 40 employees, and despite being this relatively small shop, one of the first things that we tell new clients is we can guarantee they have seen something that was produced by Enhance a Colour.

You've seen us when you fly into New York City through the JetBlue terminal, where everything in their terminal was produced and installed by us, or watching the Super Bowl where we've been doing graphics since 2013. If you go to a broadway show, many of the backdrops are printed at Enhance a Colour. If you watch any of the Music Awards, a lot of backdrops and graphics are produced by us. You may be watching Major League Baseball playoffs, or Fashion Week, people walking down the runways in front of our signage and on top of custom printed flooring that was created by us.
Because we work with a lot of high-end clients and high-value events, we always want to make sure everything is perfect. For most of the projects that we do, we don't have an opportunity to do it over – if it has to be done by two o'clock on Thursday, it has to be done on-time and right. Whether we're creating materials for an event at the United Nations during general assembly week or we're producing something for Fashion Week, or a show on Broadway, we have to guarantee that not only is it right, but it will be installed on time."
Learn more about Robert and Enhance A Colour at: https://www.eacgs.com/