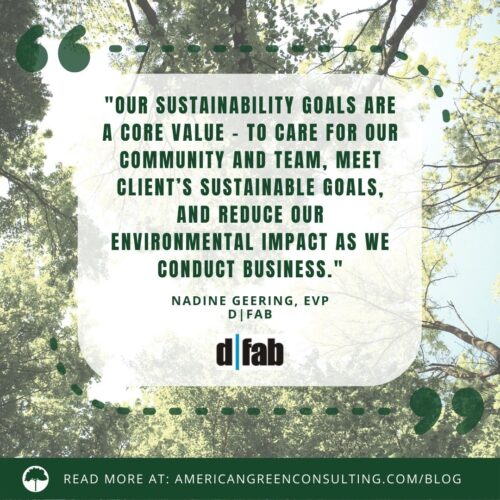 D|Fab was started in 1973 and has grown a design and engineering department and multifaceted fabrication facility to build branded environments. They focus on customer experience and empower brands with effective visual communications.
D|Fab builds extraordinary brand and thematic experiences by empowering creative and innovative ideas that inspire, connect and communicate with the world. They collaborate with brands and designers to create memorable interior and pop-up spaces for experiential, retail, restaurants, thematic, museums, healthcare, financial, commercial and educational institutions. D|Fab is the go-to domestic manufacturer and partner for many national, regional and small companies.
"D|Fab has regarded environmental stewardship as a core value of our business and we are also passionate about it, as are many of our customers. Our sustainable solutions provide our customers with choices that allow them to make informed material production and installation processes. And our goals are really to reduce our environmental impact as well as our clients' environmental impact by providing straightforward strategies for informed sustainable store designs, signage and decor products, as well as our installation services," says Nadine Geering, EVP of D|Fab.

"Being FSC® certified shows the firm's commitment to sustainable forestry products to the industry, our clients, and our own team. We're able now to confidently and correctly move forward with using wood products so that our signage and graphics and other interior features to meet certain customer sustainability goals."
At D|Fab's inception, the company was making grandfather clocks. While D|Fab's manufacturing has become much more technology-based, they value and hold that same high level of craftsmanship as their standard, which runs pervasive through the D|Fab team.
"One of D|Fab's core values is sustainability in our practices and the products we make, to care for our community and our team as well as meeting our client's sustainable goals and reducing our environmental impact while we conduct our business. The FSC certification helps us meet those goals by providing a framework for responsible industry practices. That helps ensure transparency and integrity in how we move forward."
Learn more about Nadine and D|Fab at https://dfabdesign.com/