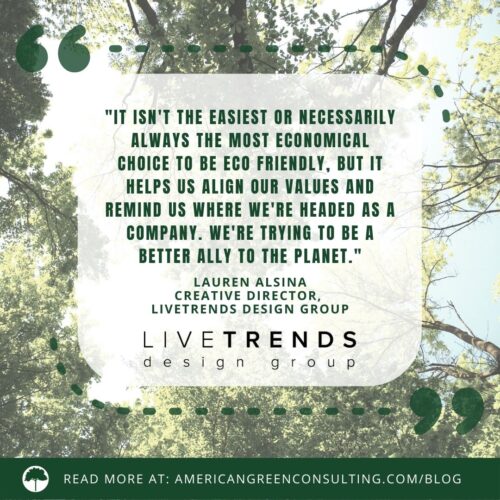 LiveTrends Design Group was born on July 1st, 2013, from the dream that everyone should have access to natural and artistic home décor.
Applying trend research in ways that other companies hadn't, LiveTrends was driven by the passion of its team in making this dream a reality. From the small beginningsof a five-person team, grew something larger than Founder & CEO Bisser Georgiev could have imagined.
"What we wanted to do was inspire people's lifestyles by using nature and art to create unique home decor to elevates people's homes and bring them closer to nature," says Lauren Alsina, Creative Director at LiveTrends. "Our company focuses on bringing people and nature together. Protecting the environment is something that we take seriously. We're always working to better ourselves and our company to be as Earth-conscious as we can be. FSC® certification is a natural step in that progression to be a better company and to do something that matters."
In 2017 LiveTrends quickly became a household name in thousands of homes across the U.S. and Canada. LiveTrends' products were innovative, surprising, and joyful. This secured LiveTrends' presence at over 14,000 retail stores and earned the company the #256 spot on the coveted Inc. 500 list of fastest-growing companies in the U.S., which marked the first time a horticultural company had been recognized.
In 2019 LiveTrends made its first big acquisition and added the Urban Jungle to its portfolio of brands. That year the company also expanded its product scope to larger houseplants and started to produce part of its own supply of live goods in its greenhouses.
"We want to be a sustainable choice for our customers. We also want to educate the end consumers on making better choices for the environment. Many of our partners are also FSC certified as well from growing stage to production to fulfillment, and the certification's focus goes beyond our products to our packaging.

We've switched our e-commerce (B2C) packaging to be eco friendly with water soluble starch foam inserts, we use all paper and biodegradable products. We don't use any plastic or tape or anything like that. We're working to transition our B2B storefront packaging as well to all FSC-certified materials. It's good for the environment."
The opening of the flagship boutique in Wintergarden in 2021 marked the first step in sharing designs and products directly with customers. This expansion continued with the launch of LiveTrends' website in 2022, which allows customers to shop both LiveTrends and Urban Jungle online.
"It isn't the easiest or necessarily always the most economical choice to be eco-friendly, but it's something that we want to push for. FSC certification helps us to align our values and remind us where we're headed as a company. We're trying to be a better ally to the planet – we hold nature very dear to us and our products all come from nature like we do.

When we bring plants to people's homes, we're working to alleviate our carbon footprint and clean up after ourselves and be as efficient as possible in our delivery.

We supply plants to 10 million homesa year. That's about 220,000 plants that go out a week. And so we have a huge footprint when it comes to supplying oxygen-producing plants. Our goal is to spread the goodness that plants can provide to mental and physical and environmental health and to have people incorporate plants into their daily lives and spaces.

Having that close proximity to nature and also understanding all the ways that you can interact with nature from hydroponic gardens to aesthetic plants to edible plants. There are just so many things plants have to offer people."
Learn more about Lauren and LiveTrends at https://livetrends.com/