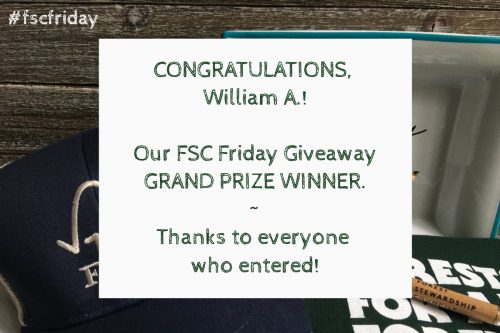 Be sure to head on over to our Facebook page and check out all the fun pics of FSC-certified everyday items!
Want to know when we do another giveaway or have other AGC news to share? Then join our monthly newsletter mailing list by emailing hello@americangreenconsulting.com. You can also follow us on Facebook and LinkedIn.
Thanks again to everyone who participated in our FSC Friday Giveaway!
---
About this FSC® Friday Giveaway | September 7-22, 2020
American Green Consulting Group (AGC) is passionate about many things, especially FSC® certification.
FSC® Friday is an annual event to help raise awareness about responsible forest management. It started in 2008 and has grown every year since, becoming a global event.
This year FSC® Friday is on September 25, and we've got some fun times ahead. Throughout the month, we'll be sharing FSC fun facts on our Facebook page and gearing up for our latest giveaway (see details below)!
Enter today and soon some of these awesome FSC®-certified prizes could be yours!
Giveaway details & legal stuff
What's in the Giveaway:
The FSC® Friday Giveaway includes two (2) "grand" prize winners and three (3) "very good" prize winners, each to be given to a different, randomly selected winner.
"Grand" prizes (2):

FSC® hat
FSC® shirt
FSC® pen
FSC-certified regular and colored pencils

"Very good" prizes (3):

FSC® hat
A few pretty awesome surprises!
Terms & eligibility:
Anyone who can provide a domestic U.S. mailing address if they win the Giveaway is eligible to enter and win except AGC employees (and their progeny).
How to enter:
Giveaway entries will be accepted from Tuesday, September 7, 2020, at 12:01am (MST) through Friday, September 18, 2020, at 11:59pm (MST).
To enter the giveaway, simply do the following:

Take a photo of the FSC® symbol on any product you own or see out in the wild. (Be sure to tell us what the product is!)
Share the photo with AGC either via Facebook or email us at hello@americangreenconsulting.com.

By entering the Giveaway, you give AGC permission to share your photo(s) on social media.
You may enter the giveaway as many times as you'd like! Each photo (as long as each is different) gives you another giveaway entry (and an additional chance to win).
The winners:
Five (5) winners will be chosen at random on Tuesday, September 22, 2020.
We will contact the winners either via Facebook or email, depending on how they entered the Giveaway.
The winners will have three business days to respond. After that time, we will pick another winner—and so on until the five Giveaway prizes have been claimed.
We will ship the Giveaway prizes directly to the winners and to domestic U.S. addresses only.
AGC will also announce the winners on our website, in our monthly newsletter and on Facebook. If you are the winner, you agree to allow us to use your full first name and last name initial in our announcements (or an alias of your own choosing). Unless you give us explicit permission, we will not tag or @mention you in our winners announcements on Facebook.
Facebook required stuff:
By entering this Giveaway, you completely release Facebook of, well, anything associated with this Giveaway.
AGC acknowledges that this Giveaway is in no way sponsored, endorsed, administered by or associated with Facebook.
About the Forest Stewardship Council (FSC)
FSC is an independent, non-profit organization that protects forests for future generations. They are an open, membership-led organization that sets standards under which forests and companies are certified.
Membership consists of three equally weighted chambers (environmental, economic, and social) to ensure the balance and the highest level of integrity. Learn more about FSC and its mission.
We respect your privacy.
Rest assured that your email address and Facebook handles will only be used for this Giveaway and not for anything else.
If you'd like more AGC fun, however, sign up for our monthly newsletter by emailing us at hello@americangreenconsulting.com. And be sure to follow us on Facebook and LinkedIn.
Now go enter the Giveaway, and good luck!