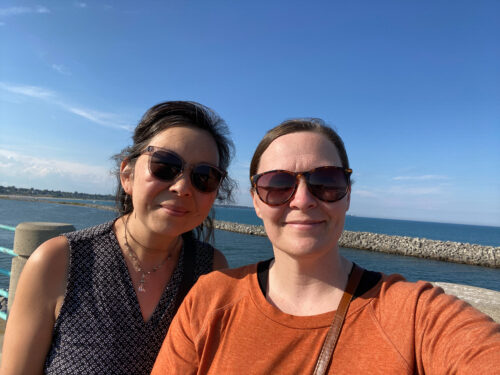 During a recent training meeting in Wisconsin, Jess Gillen and Sarah Dean went on a hunt for FSC® labels in the wild. Jess had recently trained Sarah on how to spot noncompliant trademark use, and Sarah completed the FSC training on trademarks for certificate holders and certification bodies. Armed with their cameras and excitement, they headed to several stores.
While they did find several compliant FSC trademarks (mostly on books), they were disappointed to note that most license codes traced the manufacturing outside the USA. Therefore, none of the trademarks they found were from any American Green Consulting clients (group, multisite, or single site).
As part of the AGC 11-year anniversary, we are sponsoring a trademark competition. We encourage you to look for the FSC trademark in your local bookstore, drug store (some beauty products have FSC packaging on the hang tags or boxes), and in your mailbox (many companies use FSC-certified paper to print their advertisements). Take a photo, and post as a comment on our LinkedIn page where we announced this competition. You can also email us at social@americangreenconsulting.com.
Next up: watch for our blog on buying FSC-certified gifts this holiday season!